"It's a Wonderful Life" and "A Christmas Carol"
About the Acts of Courage Movie Club: Movies  have the ability to transplant us into someone else's story so that we might see the world as they do. This not only helps us relate to  people of all ages, backgrounds, cultures, and circumstances, but helps us understand ourselves better. Great movies connect us with the truth of who we are and the world in which we live, while simultaneously awakening our imagination to new possibilities.
The Acts of Courage Movie Club is a collection of movies we found to be particularly insightful in how we act – and don't act – with courage. Just like a good book club, we've compiled a list of thought provoking questions designed to fuel conversation and further your own introspection.
So grab the remote and a bucket of popcorn and join us as we explore the ways courage permeates our world through the artistry of a really good flick.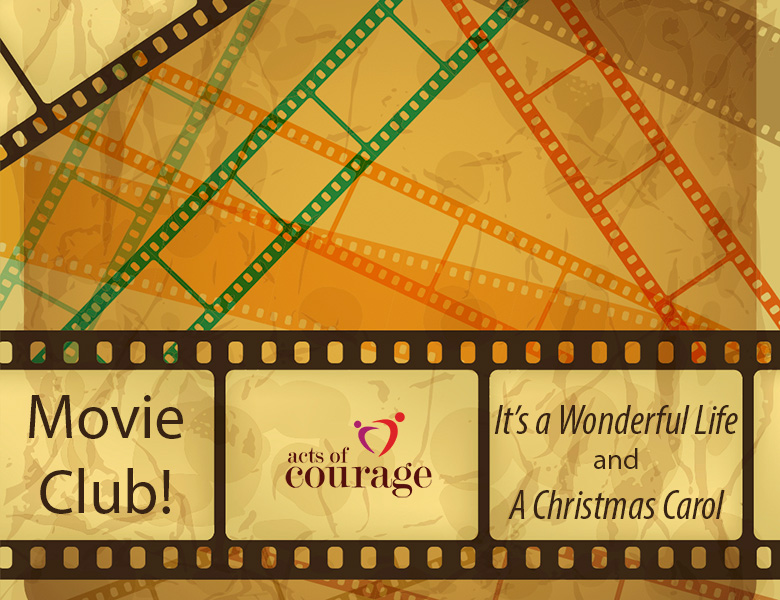 Transformational Moments: Birthing Joy
Stories – good ones – are powerful, living entities that engage the heart and mind by inspiring, uplifting, stoking courage, evoking awe, offering insights and guidance. As human beings we are shaped by the stories we are told as well as the stories that we tell.
For thousands of years our ancestors sat in the dark of nights in a world that was lit only by fire. It was around those fires that meals were cooked and stories were told. It has been said that stories, just like fire, are part and parcel of the human DNA.
In the past century, movies have become a powerful new way of telling stories to encourage the heart and inspire more authentic, joyful ways of living. Through recorded images, music and words, stories can be repeated exactly every time they are told.
Yet according to the age, life experience and momentary circumstance of the viewer, movies are never quite received as the same story, even when seen more than once. As with all stories, movies can uplift or bore, frighten or inspire us. They can inform us of what it means to be a whole human being or present a cautionary message about what happens when we lose our way.
In this holiday season of celebrations and reunions, which may include remembering and grieving lost loved ones as well as reconnecting and healing important family ties, movies can be an especially potent way of moving deeper into more meaningful living.
In fact…
The right movies can help to transform our way of thinking, perceiving and being in the world.